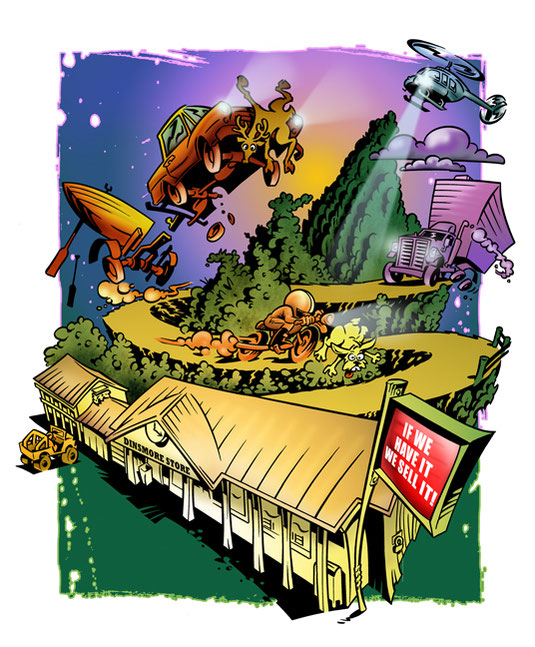 As a freelance illustrator for over 30 years, comic creator Aaron Warner has seen many different trends in providing custom art. Many freelance artists just getting started, for example, aren't even aware newspapers were once a source of steady employment since that job market dried up years ago.
"I started out visiting two or three newsrooms each week to either pick up art assignments or drop off comic strips for publication," says Warner, who self-syndicated his first comic strip, Adventures of Aaron, to newspapers before it was internationally syndicated by Tribune Media. "But these days freelance artists never have to leave their home to get work from major publishers and corporations."
"Sure, the industry has changed from print media to digital, and over the last 20 years the art industry lost a lot of job opportunities as print companies struggled to stay in business," said Warner. "So artists ask me all the time, how to get work when it seems there is no place to go, and my response to them is why go anywhere when today we have the luxury of clients coming to us!"
Warner's art studio offers job opportunities to other freelance artists who enroll at www.CartoonistForHire.com. Artists who post a portfolio receive job requests from clients directly who are searching for artists to render a variety of jobs, including recently a leading video game manufacturer, a television production company and several children's book authors. 
"While it's true art jobs with newspapers and magazines are less
frequent than they were before smart phones became a daily news source, there is plenty of new jobs available for artists in other categories," says Warner, who has created new product designs for Samsung, Motorola, and Jack Daniels Distillery.
"We saw the signs that jobs in newspapers and comic book work was dwindling years ago. However, the actual demand for custom art has not gone away, it has only changed direction," confirms Warner, who is so busy with client work that he often calls upon other freelancers to take on assignments. "One example is how many people lost heir jobs in the recession during 2008. At that same time we began picking up a lot of authors and self-publishers who figured now that they did not have a steady job, this was their opportunity to tackle their dream of becoming a published author. During this period we were busy creating a lot of different book art, covers, chapter illustrations, and logos."
"So my point is the old saying, 'When one door closes, another one opens.' This seems to happen consistently even though artists find one corner of the art industry drying up...new ones are coming to light," says Warner, who is presently working on a line of historical comic books for American Legend Comics being sold in museums. "Another example is how cartoonists who once sold comics and cartoons to newspapers can now build a business using their skills as a quick illustrator to create images for web bloggers and small businesses needing daily blog cartoons, or business logos for their "brand" many entrepreneurs run from their home. So the demand has only changed direction, but we consistently quote jobs. They are simply from an always evolving source."