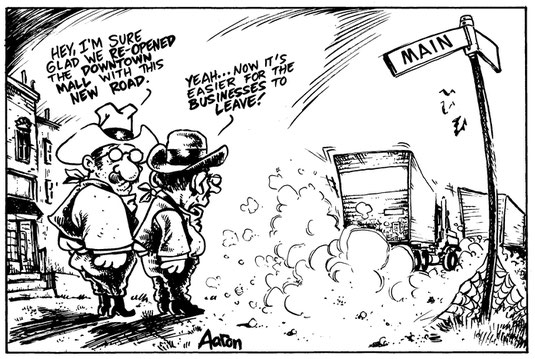 A freelance artist can get asked to draw just about anything! Since no two assignments are ever alike, this can be problematic for beginning artists to determine how much to charge their client (see previous blog post: What are you worth?) And often, the client will already have a predetermined budget allowance for the assignment, so the artist must decide how much does he or she want or need the work...and negotiate the price.
Aaron Warner can certainly relate. Warner created www.CartoonistForHire.com, a website for clients and artists to connect directly with one another for custom art commissions. Warner has drawn syndicated newspaper comics, comic books, children's books and even package designs for companies including Samsung, Kraft Foods, Coke and many other corporations. Custom political and editorial cartoons is one of the most requested items to illustrate, and In a recent presentation the cartoonist shared some insight with editorial cartoon artists who inquired about rates, and how to negotiate them.
"If clients seeking custom political cartoons or editorial cartoons request specific characters rendered who must resemble real people, the assignment will take more time than drawing generic figures as stand-ins, so the price must reflect this extra work time," says Warner, who started as a freelance artist drawing editorial cartoons for the Battle Creek Enquirer at the age of 18.
"The amount of details in the image can also add to the time of work," Warner continues. "Determine the details before you quote the job. There can be a big difference of time required to render only a lone figure in a open field or an entire army with helicopters and tanks and soldiers all wearing gear in a downtown city background."
"Thirdly, is the client planning to sell the cartoon you draw of his idea to a newspaper, magazine or other pay provider?" asks Warner, who sold several of his own editorial cartoons before being syndicated in newspapers internationally. "Set the price to complete the work worth your time, regardless if it will be sold to a national publication or simply published in the client's blog. If a magazine chose to pay around $300 for a custom political cartoon, you could then base the amount of detail and time you invest in the drawing at being worth around $300. Meaning, don't make it a $1,000 masterpiece if the budget is only $300. Find ways to cut down the time to draw the concept to fit more closely within the budget. Use silhouettes of buildings rather than draw every brick and every window for a city scene, for example. In other words don't "overdraw" unless you want to impress the client and more work from this one client is at stake. Otherwise, in the end, you are only still going to receive $300 for an otherwise $1,000 masterpiece." 
"In finding the right price the artist and client can both agree upon, the artist must finally ask themselves what is the amount of money you can live without if they lose this gig? And what is the amount of money they need to earn to complete this gig? If you can get those two prices to be the same, then you have found your price," said Warner, having been a freelancer artist for over 30 years, himself. "But of course, if lunch money is needed, you can always set the price you quote based on how much you want the job. The right price will ultimately be an answer only you will know, since you will have to live with the outcome one way or another." 
Certainly these are just a few methods any artist can use getting started as a political or editorial cartoonist for hire.