The latest creation by Battle Creek cartoonist and comic creator Aaron Warner is just as unexpected as the final panel in one of his comic strips. In fact, many other artists have thought this opportunity is too good to be true, but it is true: After 30 years as a freelance artist and building a broad client base, the critically acclaimed comic artist is offering other artists the opportunity to snag assignments from his current clientele of art directors, magazine editors, book publishers and authors seeking a cartoonist for hire.
"Our online freelance art business has grown to the point Aaron is unable to finish his own projects due to having become the art director and project manager for every other assignment we receive. The number of ongoing assignments is too much for us to handle on our own any longer," said Angie Warner, wife and fellow artist. "Aaron wants to share the incoming work with other freelance artists and writers so he can focus on his own creations once again. To do this we recently transformed our www.CartoonistForHire.com website so now ALL freelance artists can connect with our many clients directly and get art jobs for themselves." 
For the past 18 years, the Warners have hosted only their own art samples at CartoonistForHire.com for attracting potential clients. However, the new website features art samples by any other artists who want to secure the same freelance art assignments the Warners have enjoyed through their business, Cartoon Studios.
"Our clients have included comic book companies, book authors, major corporations and many small businesses who have hired us to create logos, web-toons, promotional comics, and many other custom art commissions," said Angie, who oversees the new website where each artist who enlists is able to post their own email so clients can contact any artist directly. The Warners play no role in brokering an artist's assignment with any client, nor do they take any portion of the artist's pay once the job is completed. Each artist keeps 100% of their own income and is in charge of their own business, though Aaron and Angie Warner are always available to mentor new cartoonists.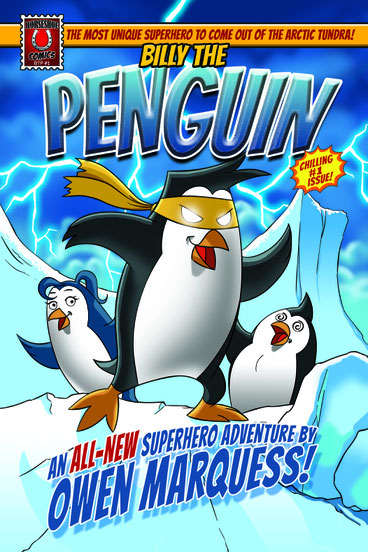 As opposed to artists who use their personal name as a domain name, having a more easily searched domain name like CartoonistForHire.com has allowed Aaron and Angie Warner to get assignments from clients around the world who may not know an artist by name, and have simply searched "cartoonist for hire."
The Warners are particularly proud of a comic book, titled Billy The Penguin, which their company illustrated for a proud father of a 16 year-old comic writer as a surprise for the boy's birthday.
"Providing the art for Billy The Penguin was a perfect example of the type of jobs we get offered," explains Angie. "Artists who have already enlisted at CartoonistForHire.com have told us they are getting more assignments now than they did with an agent! So we are thrilled to spread the art jobs out to others, allowing Aaron to get back to work making his own comics again."